Statistics
We have
222
registered users
The newest registered user is
raheelmemon
Our users have posted a total of
1140
messages in
613
subjects
If you are seeing this, you have attempted to link to the UpToDate widget but are experiencing a problem. Please visit
UpToDate
for more information.


Altered Fecal Microbiota Composition in Patients with
Major Depressive Disorder
Source: Jiang, H., et al. Brain, Behavior, and Immunity, 13 April 2015.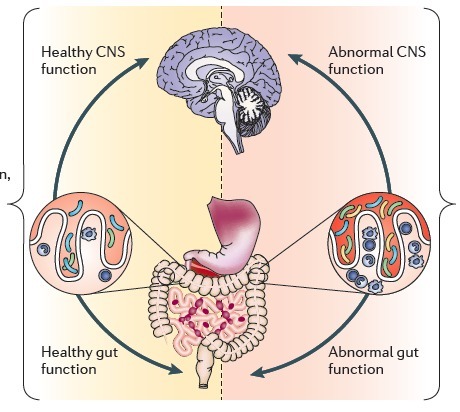 Accumulating evidence from animal studies supports the hypothesis that gut microbiota play an important role in central nervous system function, namely through inflammation, and the HPA axis, and by affecting neurotransmission.
Human studies have demonstrated increased bacterial translocation in mood disorders such as depression.
METHODS:
- Age: 18–40 years
- 46 patients with depression= 29 with active MDD and 17 with responded MDD.
- 30 healthy controls (HCs)
- Exclusion criteria: hypertension; cardiovascular disease; diabetes mellitus; obesity; liver cirrhosis; fatty liver disease; irritable bowel syndrome; inflammatory bowel disease; drug or alcohol abuse in the last year; use of antibiotics, probiotics, prebiotics, or synbiotics in the month before collection of the fecal sample; and known active bacterial, fungal, or viral infections.
RESULTS:
-
Bacterial diversity
was
significantly higher in the A-MDD group
than that in HC group, as indicated by the Shannon index.
- This increased fecal bacterial diversity was
not found in
the responded-MDD (R-MDD) vs. the HC group.
-
Bacteroidetes
,
Proteobacteria
, and
Actinobacteria
strongly
increased in level
, whereas that of
Firmicutes
was significantly
reduced
in the A-MDD and R-MDD groups compared with the HC group.
- MDD groups had
increased levels
of
Enterobacteriaceae
and
Alistipes
but
reduced levels
of
Faecalibacterium
.
-
Negative correlation
was observed between Faecalibacterium and the severity of depressive symptoms.
CONCLUSIONS:
These findings enable a better understanding of changes in the fecal microbiota composition in such patients, showing:
- either a predominance of some potentially harmful bacterial groups or
- reduction in beneficial bacterial genera.
*****************

Click on
to post your comments


Similar topics
---
Permissions in this forum:
You
cannot
reply to topics in this forum