Statistics
We have
222
registered users
The newest registered user is
raheelmemon
Our users have posted a total of
1140
messages in
613
subjects
If you are seeing this, you have attempted to link to the UpToDate widget but are experiencing a problem. Please visit
UpToDate
for more information.


Question posted by our Facebook member: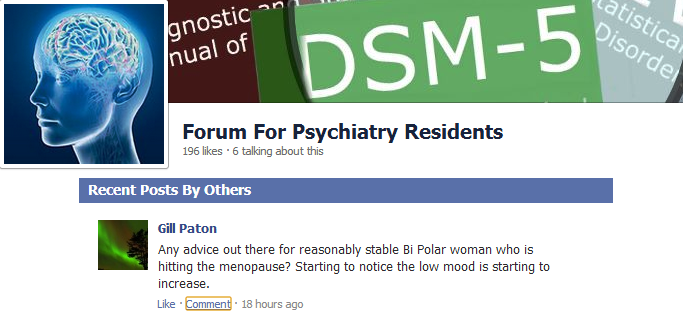 Post your suggestions here.
Thanks
*****************

Click on
to post your comments

Hi Gill,
Thanks for asking this important question. Here is my take on this topic, everyone is encouraged to post there experience here and correct me if wrong.
Emerging data states that menopausal transition age women with bipolar disorder experience a greater proportion of clinic visits with depressive symptoms compared to similarly aged men, and younger women and men with bipolar disorder.
Treatments needs to be chosen with careful consideration for the different stages of the menopausal transition, as well as safety, tolerability, and impact on Quality of living.
Menopausal-related symptoms can be treated with
hormonal therapies
,
antidepressants
, and
herbal supplements
, but a critical window of opportunity may exist for these interventions.
Bipolar disorder presents differently in women than in men and may require different medication.
For instance:
* In women
lithium may be less effective
for patients who have rapid cycling
*
Adjuvant antidepressant
medication may be required
with valproate or carbamazepine
*
Lamotrigine
may also be effective.
Note: Most of the medications that are standard treatment for bipolar disorder
affect bone mineral density
, and the risk for impaired Quality of life should be considered when choosing medication for women during this period.
Estrogens
have a mood-enhancing effect in postnatal depression and the depression in the transitional phase of the menopause. A balance is often necessary between three hormones: Estrogens, progestogen and possibly testosterone.
The problem is the
progestogen
(as these women are often progestogen-intolerant). Progestogen should be used in the lowest dose and for the shortest duration necessary to prevent endometrial hyperplasia or the return of premenstrual syndrome-type symptoms if the women are progestogen-intolerant.
It is possible to add
transdermal testosterone
which will improve mood, energy and libido.
The use of estrogens for depression in these women does not exclude the use of antidepressants.
Note: Hormone-responsive depression cannot be diagnosed by measuring hormone levels but can only be diagnosed by a careful history relating depression to the menstrual cycle, pregnancies and the perimenopausal years.
Insufficient information is available, however, to assess the best strategy to treat women with bipolar disorder and depression as they age.
Source:
Marsh WK, Ketter TA, Rasgon NL. Increased depressive symptoms in menopausal age women with bipolar disorder: age and gender comparison. J Psychiatr Res. 2009 May;43(

:798-802. Epub 2009 Jan 19. PubMed PMID: 19155021.
Studd JW. A guide to the treatment of depression in women by estrogens. Climacteric. 2011 Dec;14(6):637-42. Epub 2011 Aug 31. Review. PubMed PMID: 21878053.
Soares CN, Taylor V. Effects and management of the menopausal transition in women with depression and bipolar disorder. J Clin Psychiatry. 2007;68 Suppl 9:16-21. Review. PubMed PMID: 17764380.
*****************

Click on
to post your comments

Please post your experience with medications and if possible doses that you have used.

Thanks
*****************

Click on
to post your comments


Similar topics
---
Permissions in this forum:
You
cannot
reply to topics in this forum