Statistics
We have
222
registered users
The newest registered user is
raheelmemon
Our users have posted a total of
1140
messages in
613
subjects
If you are seeing this, you have attempted to link to the UpToDate widget but are experiencing a problem. Please visit
UpToDate
for more information.


Antipsychotics may Contribute to Increased Activity of Endogenous Retroviruses in Humans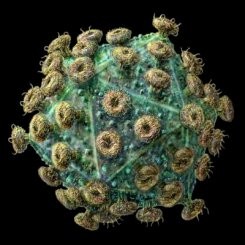 Human endogenous retroviruses (HERVs)
have been associated with various neurological and neuropsychiatric disorders.
Transcripts and proteins of at least three HERV groups, HERV-W, ERV9 and HERV-K(HML-2) have been detected repeatedly in brain samples or cerebrospinal fluid of patients with schizophrenia suggesting that alterations in HERV activity may play a role in etiopathogenesis.
To investigate the effects of neuroleptics and/or antidepressants on HERV transcriptional activity, HERV expression profiles of a broad range of human brain cell lines treated with
valproic acid (VPA), haloperidol, risperidone, and clozapine
were analyzed using a
retrovirus-specific microarray
and
qRT-PCR
.
Investigation of 52 HERV subgroups revealed
upregulation of several class I and class II HERV elements by VPA in a dose-dependent manner
. The strongest effect was observed on
HERV-W and ERV9 groups
in the human glioblastoma cell lines SK-N-SH and SK-N-MC, respectively. The
transcript level of HERV-K(HML-2) elements was not influenced
.
Patients with schizophrenia showed a significantly
higher HERV-W transcription associated with VPA treatment
. However
in case of ERV9, enhanced transcript levels could not be explained solely by VPA treatment
, since a slight increase was also found in untreated patients compared to healthy controls.
HERV-K(HML-2) elements
appeared to be upregulated in some patients with bipolar disorders
independent from medication
.
In conclusion
, these results suggest that antipsychotic medication may contribute to increased expression of distinct HERV taxa in patients with neuropsychiatric diseases.
Source:
http://www.plosone.org/article/info%3Adoi%2F10.1371%2Fjournal.pone.0030054
*****************

Click on
to post your comments


Similar topics
---
Permissions in this forum:
You
cannot
reply to topics in this forum