Statistics
We have
222
registered users
The newest registered user is
raheelmemon
Our users have posted a total of
1140
messages in
613
subjects
If you are seeing this, you have attempted to link to the UpToDate widget but are experiencing a problem. Please visit
UpToDate
for more information.


Schizophrenia Quiz- Check Your Basics
Q1: In a patient with schizophrenia, therapy with an atypical antipsychotic may be more effective than a typical agent in:
A. Reducing positive symptoms
B. Reducing negative symptoms
C. Avoiding prolactin elevation
D. Avoiding weight gain
Q2: 40 YO female is newly diagnosed with schizophrenia & is planned to be started on atypical antipsychotic. Which of the following clinical indicator goes abnormal first, signifying the onset of metabolic syndrome:
A. Waist Circumference
B. Body weight
C. Triglyceride
D. HDL
E. Blood Pressure
F. Fasting Glucose
Q3: Based on CATIE trial, most likely reason for discontinuation of treatment was:
A. Lack of efficacy
B. Weight gain
C. Patient's decision
D. EPS
E. Sedation.
Last edited by Admin on Sun Jan 15, 2012 5:39 pm; edited 1 time in total
*****************

Click on
to post your comments
Let me try answering.

Q1. B I read risperidone has significant prolactin effect, whereas other atypicals dont have much D2 effect, they have more afinity towards 5HT2A. so prolactin may not be the answer. Typical and atypical both have same weight gain effect in reality I guess.

Q2. Waist circumference

Q3. Patient decision?

Please post the answers, thanks for the good questions, keep them coming.

drkamalika

Moderator





Posts

: 33


Points

: 57


Reputation

: 0


Join date

: 2012-01-14


Location

: NY



Here are the answers with explanations

Ans 1: B. Reducing negative symptoms.
Please check drkamalika's answer above for explanation. Also check the diagram below for Dopamine pathways explanation.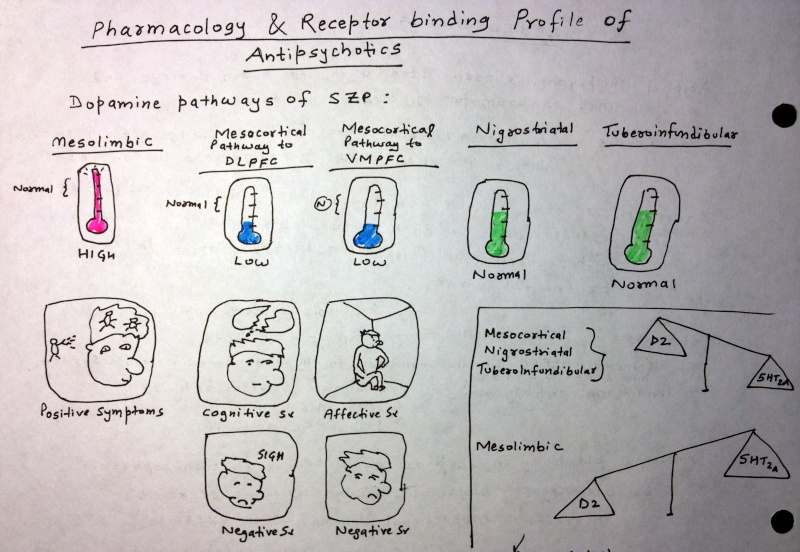 There are
four major dopaminergic pathways
: mesolimbic, mesocortical, nigrostriatal, tuberoinfundibular. D2 receptors are present in all 4 pathways.
Typical antipsychotics
block D2 receptors in all pathways= Mesolimbic system (decreases positive psychotic symptoms), nigrostriatal system (result in EPS), tuberoinfundibular system (causes hyperprolactinaemia)
Atypical Antipsychotics
: have more effect on Seretonin (5HT2A) >>Dopamine. They block D2 receptor in mesolimbic pathway only- so no other side effects (EPS & Hyperprolactinaemia). In addition Seretonin blockage (5HT2A) increases Dopamine release in other pathways -->resulting in improvement in negative symtpoms.
Exception= Risperidone
(for more details read= http://www.medsafe.govt.nz/profs/puarticles/hyperpro.htm#Atypical)
Also check this link for "Basics of Nor-Epinephrine, Dopamine & Serotonin Neurons"
: http://bit.ly/uoDyEz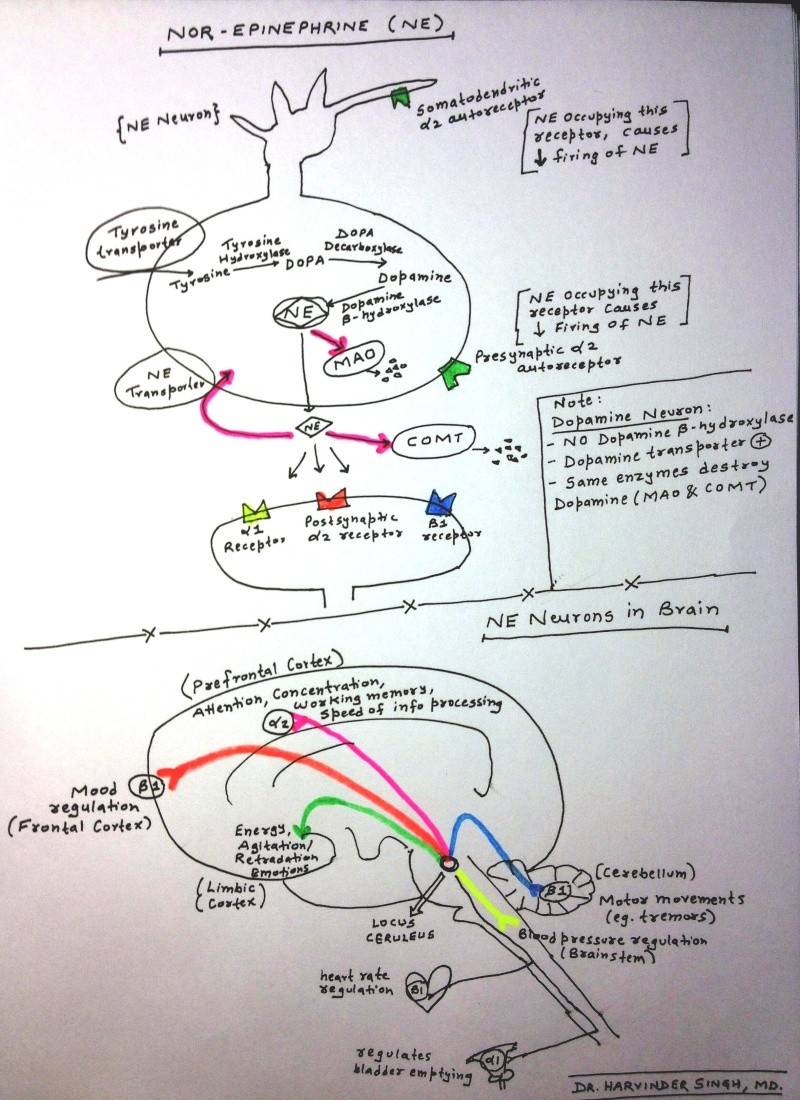 Ans2: C. Triglyceride
Hypertriglyceridemia is the first abnormal test signifying the onset of Metabolic Syndrome.
Important for both Psychiatrist and primary care physicians.
Ans 3: C. Patient's decision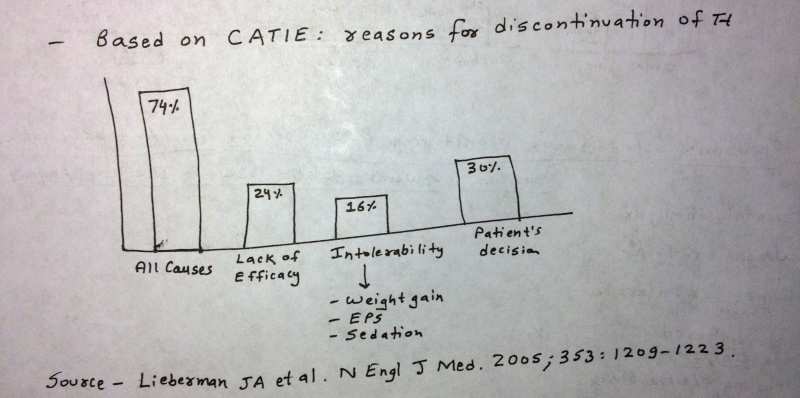 Last edited by Admin on Sun Jan 15, 2012 1:32 pm; edited 2 times in total
*****************

Click on
to post your comments
Thanks for trying DrKamalika.
*****************

Click on
to post your comments


Similar topics
---
Permissions in this forum:
You
cannot
reply to topics in this forum